Let's look at a scenario that you probably have seen before. You're a fantastic service provider, and your development team has been working on a project for a client for some time. At this point, your team knows customers' business needs well, but every time a project expands, you realize that your staff lacks one or another data or cloud expertise. For example, you need skills in SaaS-based development using various cloud services, or platform re-architecture, or infrastructure management and governance.
What may be the most straightforward and efficient solution for this issue? One of the most successful options, in our opinion, is to scale up your development process with team extension services. For starters, you gain the necessary competence right away, thereby eliminating the need to force existing team members to acquire new technical abilities really quickly. Second, the team extension concept is the right way to scale your project in the future. Third, this strategy gives you the control you need to eliminate overhead, putting the power in your hands.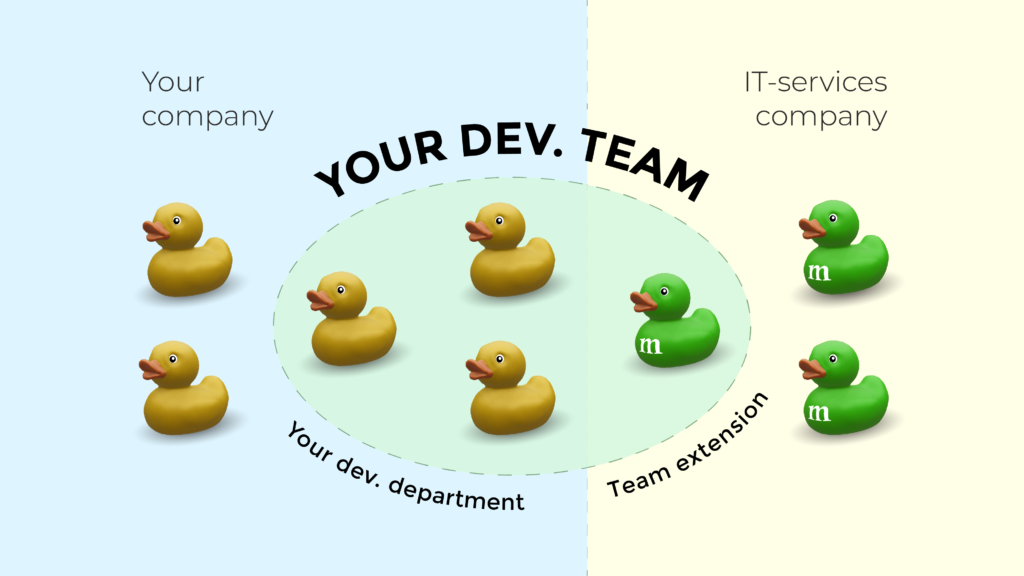 Due to fierce competition for data specialists in some parts of the world, such as North America and Europe, many software development organizations are looking for data experts in other countries, such as Ukraine, Poland and the Philippines. Companies that are prepared to be agile in their hiring models are more likely to get top-tier engineers for their projects. Thanks to this, a development company can diversify its offerings to partners on data use-cases, strategies and implementation to fulfill their needs and business goals. 
Team extension: The novel approach to hiring
We often think of traditional outstaffing when we hear about IT staff augmentation or team extension services. However, this is not the case. Team extension is a new sort of outsourcing that allows a technology company to recruit creative, highly skilled talents. As an example, as previously mentioned, our company specializes in increasing development teams with the assistance of data experts. They can empower the in-house team with data integrations, data management, analytics and visualization tasks. At the same time, these guys are not officially part of your company, but they are focused on helping the customer achieve his business goals because the talent acquisition process by the offshore company guarantees their professional attitude to work. 
Developers are constantly evolving and enhancing their capabilities thanks to the vendor's internal experience, a competitive recruitment process and an internal technical skill development program. They work with the vendor's internal staff to assess and re-evaluate their industry experience, as well as comprehend trends and the current technology stack. As a result, the team extension approach can provide the skills you require, speed up the development process and assist you in meeting your objectives.
As an aside, if you've never used IT staff augmentation or team extension software development models before, we've created a resource for you that explains the distinctions and how they can help.
Potential benefits of team extension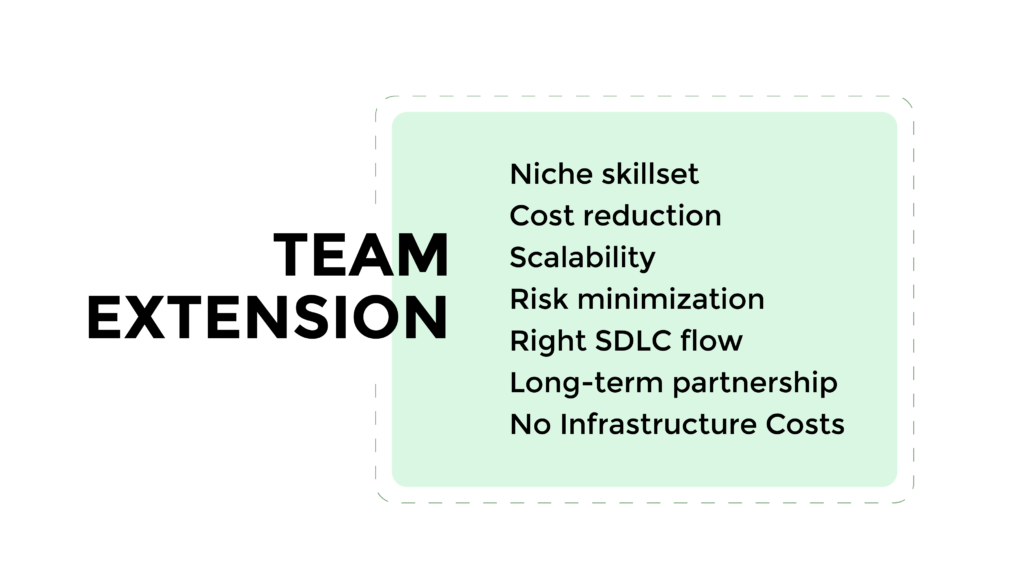 Find a niche skillset
Finding outstanding individuals may be challenging, especially in a field as complicated as data and analytics. Because many businesses are in desperate need of key expertise, finding vendors to complete highly specific technical tasks has become extremely popular lately. This approach enables technology companies to fill in the gaps in crucial skills and locate people to do so.
Cut expenses
It's no secret that cutting costs is one of a company's most important goals. The vendor assures that its extension services personnel are knowledgeable and skilled. This ensures that the partner and its clients receive precise and appropriate support without having to worry about technology issues or unexpected shortcomings.
Project scalability
As the project expands, the issue of scaling arises. At some point, hiring local developers may not be financially feasible. Another issue is that the market may just lack the required personnel. Finding a qualified data engineer, for example, can be challenging. As a result, many businesses focus on adding external expertise to augment their present IT team's technical expertise.
Minimize potential risks
One of the most crucial aspects of every service company is risk minimization. Vendors ensure that their talents always have the essential skills, guaranteeing that any possible difficulties with coding, data governance, legacy, testing and other data-related issues will be resolved safely and quickly.
Right SDLC flow
The right talent can assist your team to optimize workflow and come up with new solutions. You may create or upgrade a proper and secure SDLC process with the correct team members. For example, in this article, you can learn about our experience and case studies in developing Secure SDLC. 
Long-term partnership
A well-designed business model for team extension services is built for long-term collaboration. The vendor wants to make it as easy as possible for his employees to stay with him, and hence with the team that hired them, for as long as possible. For example, 90 percent of our core development staff, which was present at the company's origin, is still working with us.
No infrastructure costs
The lack of infrastructure expenditures is a less noticeable but significant benefit. The vendor gives the dedicated team everything they need to get the job done and supplies engineers with ready-to-use solutions. If the developer is required to utilize the client's laptop under the terms of the contract, there will be no issues.
Summary
In conclusion, we feel that by using team extension services, a company can increase its number of IT employees and focus on their business while improving their personnel.
In other words, because team extension is less restricted than in-house teams and more open than outsourcing, it is best for businesses that require an extra pair of skilled hands now but are also ready to collaborate long-term and scale up gradually. The systematic replenishment of the organization with top-notch IT personnel can be critical to the success of particular projects as well as the company as a whole. 
WANT TO EXTEND YOUR TEAM WITH DATA EXPERTS?
Learn more about our data development services that help our partners build successful solutions, solve data challenges and speed up the delivery.