Emerging and high-growth of data technologies have already had a big impact across a wide range of sectors. New insights are possible, working processes can improve, and new products and services can be created as a result of the data flowing into these systems.
For example, many specialists use behavior analytics in the retail industry to recognize the high-value customers, their motives behind the purchase, and their buying patterns behaviors. Based on this data, retailers can tailor offers more effectively to increase revenue from high-value customers.
Pharmaceutical companies have often relied on empirical data to identify patterns, test theories, and understand the effectiveness of treatments.However, sometimes it wasn't a good solution. But Data Analytics is another evolution in this trend. The utilization of data analytics to comb through available big data provides valuable insight to pharma companies regarding the necessities, use, contraindications, market trends, and sales performance.
Big data analytics software has accelerated this process, making it possible to exchange and use more sources of data than using traditional, more limited computers and software.
How pharmaceutical companies use analytics: 5 ways to digital success
In the past 10 years the global pharmaceutical sector is in constant and rapid change, resulting in lower profitability, lower costs, reduced product lifecycles, and an increased need to find efficiencies in the supply chain.
All of this is forcing companies in the sector to drive forward growth through a number of ways. Digital influence has challenged traditional models, forcing the balance of power to shift towards customers and suppliers.
Ongoing digitization initiatives in the pharmaceutical industry aim to expand collaboration and new business models. Also, digitalization gives companies a high-profit potential. And the pharmaceutical industry can significantly benefit from increased marketing and sales if customer focus is combined with the value chain.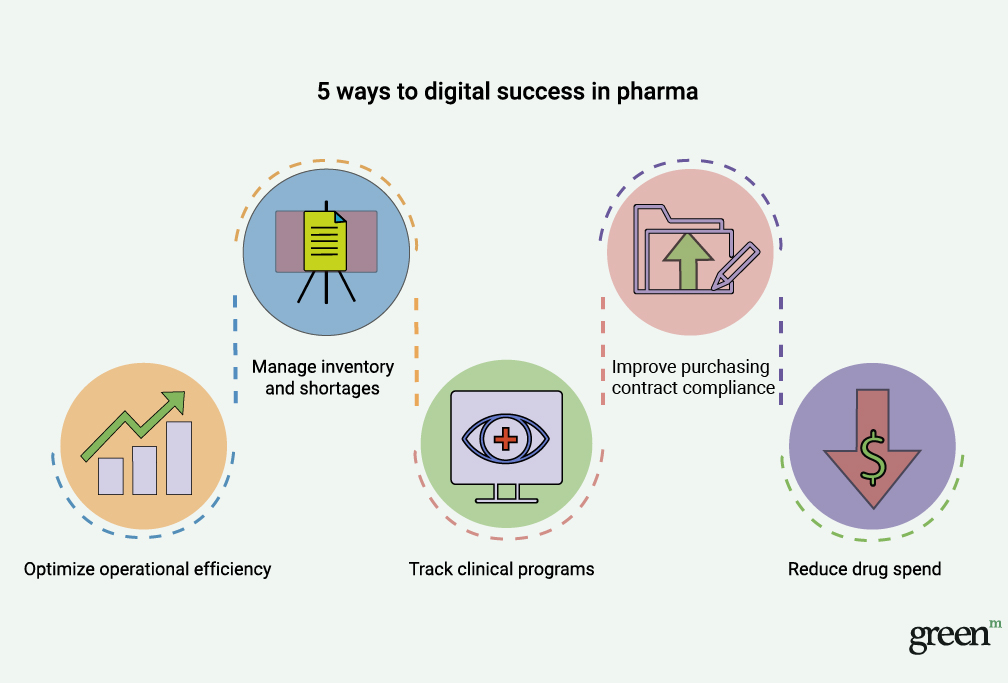 Reduce drug spend
Reducing drug R&D costs helps create an opportunity for health plans to assess the value of current and new strategies and implement a reduced cost model that shifts the focus towards patient care.
Track clinical programs
Using track clinical programs and insightful data, drug companies can understand new trends and patterns that will allow them to come up with more targeted medications for patients and provide better treatment.
Optimize operational efficiency
Take full advantage of digitization and automation to streamline and speed up your processes, as well as improve efficiency and productivity.
Manage inventory and shortages
Track and manage stock levels and the status of all resources in the store to maintain the right supply levels.
Improve purchasing contract compliance
Reduce your and supplier costs, increase compliance, mitigate risk, and better manage internal and external relationships through the proper purchasing contract compliance.
How pharmaceutical companies use analytics: the main types of pharma software solutions
Today, pharmacists have many opportunities to improve upon the services they provide, and there are additional services they may consider offering to expand their role within the healthcare system.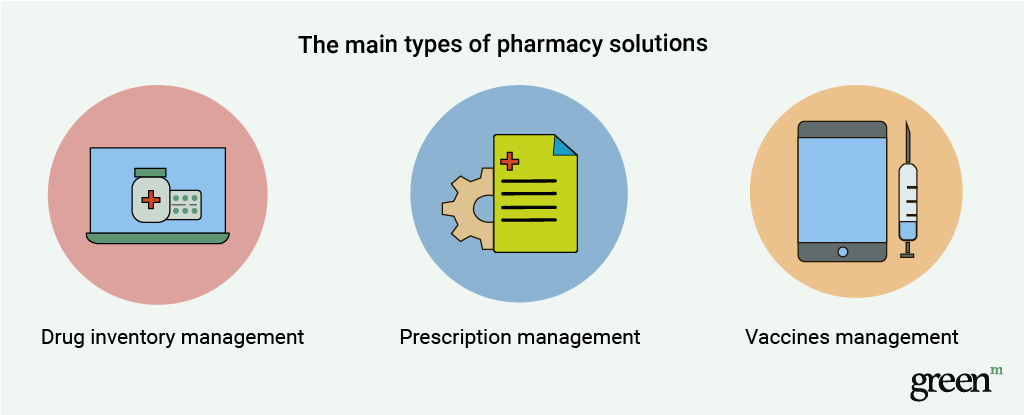 Drug Inventory Management
Drug inventory management software helps track orders to control supplies, use of stored drugs, and facilitates pharmacist verification and billing. Such software is intended for drug and pharmaceutical inventory management, but not for an inventory of hospital equipment or devices. In this way, healthcare systems can use inventory management software to process and distribute drugs, track retail records and data, and reduce both operating costs and drug waste more effectively.
Prescription Management
Electronic prescription software is the trusted helper that allows one to generate and send a prescription directly to the pharmacy electronically, manage and process multiple prescription drugs quickly and simultaneously, track prescription refill schedules and manage refill orders for efficient healthcare, fill out prescriptions and more. Using a program such as this reduces dosage errors, improves patient safety, simplifies treatment workflow, and increases patient satisfaction.
Vaccines Management
Vaccines management software is a perfect way to identify companion vaccine opportunities that enable the pharmacy to document easily and bill vaccines covered under the medical benefit and allows CDC, awardees, and providers to order and manage publicly-funded vaccines more efficiently.
Pharma data analytics: the real-world business case
For example, GE Healthcare has established a digital data exchange collaboration program with another manufacturer, Amgen. The main goal was to use data analytics to better understand the relationship between raw material variability and process performance. Thus, using detailed analysis, more efficient ways can be derived to ensure consistent and predictable bio-production efficiency. Collaboration is based on the effectiveness of the data exchange capabilities between the two companies and their willingness to exchange data.
Based on IDC Health Insights and their Worldwide Health Industry 2020 Predictions report, future enterprises break away from traditional health industry practices by embracing digital transformation at scale. These digitally determined organizations organize around high-value, high-growth digital transformation pharma analytics use cases where reinvention becomes commonplace, and operations are at hyper-scale, hyperspeed, and hyperconnected.
Besides, the use of data should have a considerable impact on all aspects of the pharmaceutical industry. IDC Health Insights also predicts that by 2022, 30% of life sciences organizations will achieve superior data quality or a vision to leverage the right data at the right time.
Five data areas to generate scale in pharma
Expanding access to healthcare has opened the door for pharmaceutical industry players to broader target markets. Emerging markets are becoming critical for many pharmaceutical companies. But the biggest opportunity for pharma is digital transformation. To do this, companies need to overcome five challenges.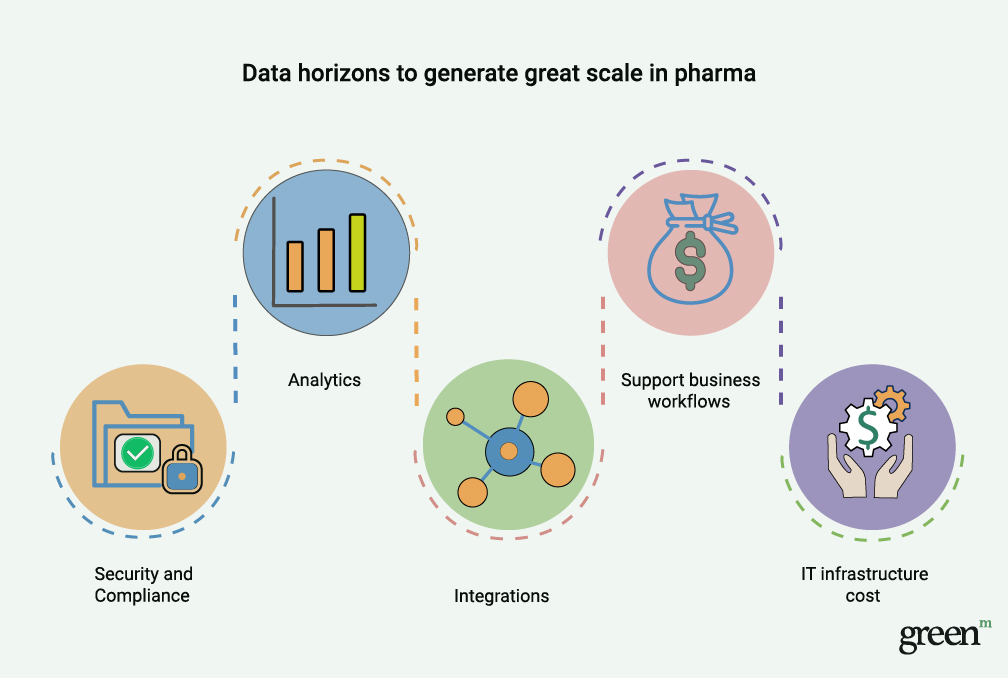 Security and Compliance
Pharmaceutical organizations face a variety of security threats, from burglary to robbery, internal and external theft, damage, etc. And given the high value of the intellectual property that pharma business has to deal with, ensuring durable data protection is mission critical.
Integrations
Companies need to cooperate using reliable systems that are backed up with the right data throughout the supply chain. The integration of data from all sources in the supply chain is the key to efficiency. A cloud-based supply chain management solution will provide transparency for all organizations, regardless of their size.
Support business workflows
With rapidly growing requirements, pharmaceutical workflow management is becoming more complex. The research and testing of new drugs are burdened with inefficiencies, ranging from compliance problems to deadlines.
Analytics
There are problems inherent in large datasets. Issues include missing values, lack of structure, variety of formats, lack of consistency, and potential for scientific research, to name just a few.
IT infrastructure cost
Modern pharma organizations face issues with the lack of efficient data storage architectures, legacy system migration to the cloud, and the necessity of cloud costs or optimizations, which are important for efficient work processes.
Key success factors of data analytics in pharmaceutical
Despite some of the downside risk factors, there are huge advantages and solutions. Using these points, the pharma industry can improve work processes and get better results.

Data governance is a foundation
In any pharmaceutical organizations, data governance helps them understand not only the data they receive but also informs them about decisions regarding complex IT infrastructures and applications that need to be integrated. This also includes central security and safeguard systems, with audit trails.
The power of visualization
With the help of advanced analytics, pharma companies can intelligently search vast data sets of patents, clinical trial data, drug distribution, and vaccines supply chain management to help accelerate the discovery of new drugs and accelerate work processes.
Business configured workflows
Workflow software can provide an efficient and easy-to-use method of automating daily tasks, data, and processes, which will save your organization time and money.
Data on the cloud
AWS helps pharma companies get full access to data in their systems, and unlock the total value of time-series data for insights.
NEED HELP WITH PHARMACEUTICAL DATA?
Learn more about how we make pharma IT solutions better.
Key Takeaways
The pharmaceutical industry is a place where vast amounts of data are generated from sources such as patients, retailers, and R&D processes. The data makes it easy to understand complex business processes, which in turn leads to better clinical trials, better risk management for pharma businesses, better patient safety, and increased cooperation between various pharmaceutical organizations.
Related post: Big Data and Pharma: Building Preclinical and Clinical Analytics Platforms
Top 5 handpicked healthcare industry insights, cases and business recommendations in your inbox every two weeks. Hit the SUBSCRIBE button below to learn about health tech with our digest!

References:
1. AWS, Pharma Manufacturing Use Cases
https://aws.amazon.com/ru/health/biotech-pharma/manufacturing/
2. Deloitte, The digital edge in life sciences: The business case for digital supply networks
https://www2.deloitte.com/content/dam/Deloitte/us/Documents/process-and-operations/us-cons-business-case-digital-supply-networks-life-sciences.pdf
3. Erwin, Data Governance value
https://erwin.com/blog/pharmaceutical-companies-data-governance/#:~:text=For%20pharmaceutical%20companies%2C%20data%20governance,that%20need%20to%20be%20integrated
4. Pharma manufacturing, What's Trending in Pharma IT?
https://www.pharmamanufacturing.com/articles/2014/whats-trending-in-pharma-it/
5. Purchasecontrol, Procurement Compliance
https:/www.purchasecontrol.com/uk/blog/procurement-compliance/
6. Polestarllp, Ways Pharmaceutical Companies Ensure Success With Analytics
https://polestarllp.com/analytics-in-pharmaceutical-companies
7. Lexjansen, Big Data in Pharma World: What & How
https://www.lexjansen.com/phuse/2017/rw/RW02.pdf
8. g2, Best E-Prescribing Software
https://www.g2.com/categories/e-prescribing?order=g2_score&page=2#product-list
9. g2, Best Drug Inventory Management Software
https://www.g2.com/categories/drug-inventory-management?
10. Optelgroup, PERFORMANCE CHALLENG
https://www.optelgroup.com/pharmaceutical/performance-challenge/
11. Pharmaceuticalonlin, From Discovery To Production, Increasing Operational Efficiencies In The Pharmaceutical Industry
https://www.pharmaceuticalonline.com/doc/efficiencies-in-the-pharmaceutical-industry-0001