Outsourcing creates thousands of new business opportunities, as it is not always possible to find the specialist you need, with the right experience for your project nearby. However, there are times when you require a large group of experts all at once, while at a reasonable cost.
A concept known as Team Extension is used to address this problem. A team of experts in the niche you're working in are invited to support the existing team and start working on the project at any point. But how does this compare to traditional outsourcing or a method like staff augmentation? Let's sort it out together.
In brief:
Team Extension is a modern dedicated team approach that provides you quick access to a team of tech experts with a strong niche expertise;
Staff Augmentation is similar, but it is focused on filling the gaps in an existing team which is great for certain scenarios;
In a classic Dedicated Team approach, the vendor acts as a partner, setting up the process and taking full responsibility for a project and managing most of the risks on its side without close development cooperation with the customer
Team Extension is effective thanks to a providing company that covers all organizational aspects and provides resources to effectively adopt your inhouse standards and processes.
What is a Dedicated Team approach?
It is an IT outsourcing strategy in which a company assigns you a remote software development team solely focused on your product and business objectives. Outsourced developers are hand-picked to meet your specifications and can be overseen by you. You obtain a fully packed and skilled personal software development team, while the providing company handles recruitment, taxes, team housing, and compensation.
For startups and new products, where creativity is a major success element, a devoted team's sense of unity is especially important. You don't have to spend time organizing team buildings so that everyone can get to know each other, build trust, and learn how to cooperate – this has already been done for you.
As a result, the only indication that your team is outsourced is the absence of team members in your office. Despite this, contemporary communication and work-monitoring tools make it barely noticeable. In addition, there is also the option of meeting with the team on-site. You can learn more about them and you get a good excuse to travel to another country.
And what about Staff Augmentation?
Staff augmentation is an IT outsourcing approach in which a software development company gives its employees to fill in the gaps in your present team's technical competence. Outsourced developers collaborate with your IT team remotely.
In many circumstances, IT staff augmentation outperforms traditional hiring, especially when time is of the essence. Staff augmentation is ideal for swiftly acquiring lacking expertise for a current project. As the scope of your project changes or team members leave, the need for fresh software developers can become critical. It can take a lot of time and money to find the perfect person with relevant experience. Software development firms are likely to have on-hand expertise or an efficient recruiting department and procedure to quickly fill gaps in their workforce.
What makes the Extended Team Model so effective?
It's a hybrid method that takes the best of both Staff Augmentation and Dedicated team models. It's similar to the Staff Augmentation strategy, except instead usually of offering just one or few specialists, it gives you immediate access to a team of experts while still allowing you to maintain control.
How does it work? Let's imagine you have a development team and a project. They've been working on it for a while. You notice you lack Data expertise as the scope of tasks grows larger, and you need to fill this gap swiftly to meet all deadlines. This is where the use of a team extension comes in handy. This team will analyze your project's requirements and the time it will take to implement them.
For a better understanding, let's take a look at our case Enhance Operational Efficiency and Key System SLA Compliance by Improving Workflow Orchestration. A five-person team consisting of 3 data developers and 2 data QA engineers joined the client's team and assist it with the value delivery. As a result, our team expanded system functionality in order to support the client's data pipeline.
When viewed as a whole, the team can easily be scaled if necessary. Project management, like in Staff Augmentation, is handled by the client, but technical leadership is managed by the company supplier. The extended team will have a person who strategically observes the project and provides critical technical intel on how to enhance it even more, which technology to apply, and what tasks must be completed.
It is the best option if your organization lacks technical competence and needs a team to quickly solve specialized tasks. Staff augmentation will not suffice in these situations.
Increased efficiency at critical stages:
Provided by an organization with a proven record of assembling professional teams
Niche technology expertise and a deep understanding of the Business Domain can help customers find the right people right away
Fast onboarding and integration are ensured by a comprehensive project skills mix (hard and soft).
High quality & compliance:
Balance of Quality and Cost-effectiveness
Reliable partners to develop software that is nearly faultless
From onboarding to offboarding, adhere to the client's policies and procedures.
Talent retention and high loyalty:
Immerse in client culture starting from team formation
Compliments your internal team's close collaboration with them
The new team poses no threat to the regular employees, resulting in low pushback.
High Scaling Speed:
Supported by a large community and a talent pool of a providing company
The cost of HR leadership is covered (hiring, career planning, professional management, etc.)
The project's team structure is mostly determined by the project.
Bonus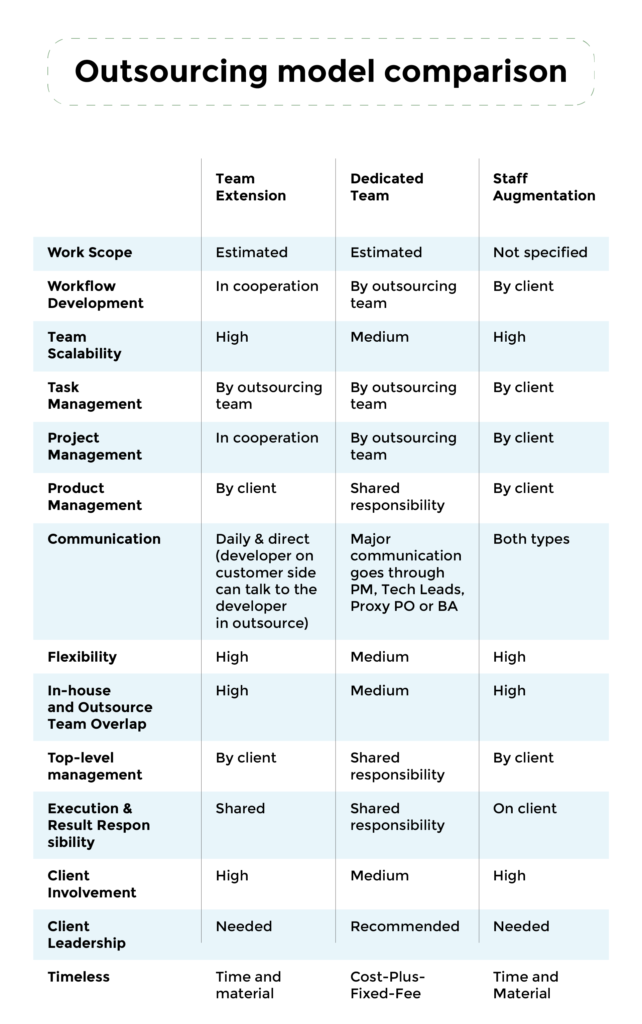 Summary
If your business requires technical skills and outstanding teamwork right away, Team Extension is a fantastic option. This flexible approach allows you to bring in outside experts at any point of the project, from the start of development to its later stages, or to support an already released software.
A company that provides a team takes care of all organizational concerns, and also provides a possibility to respond quickly to project changes and scale the team according to your needs. Plus, the Team Extension works effectively in the long run since the longer a team works on a project, the more familiar it becomes with its features and the faster it can respond to any issues, changes, or updates.
At GreenM, we believe this strategy is the way of the future, thus we adhere to it and form teams of the best data engineers. If you require significant technical assistance in this area, contact us right away, and this will be the first step toward fulfilling your dream project.