There has been a buzz going around the healthcare sector about the latest HIMSS conference. Indeed, if you've been here long enough, you know that HIMSS is a big deal.
HIMSS is a not-for-profit organization that equips healthcare providers, businesses and governments with information and training worldwide. Health 2.0 is a series of conferences organized by HIMSS and sponsored by top players in the industry.
We took part in the 2021 European Health 2.0, displaying our company in a virtual "booth" and visiting workshops and talks. After experiencing the conference both as participants and listeners, we wanted to share our overall experience.
Conference overview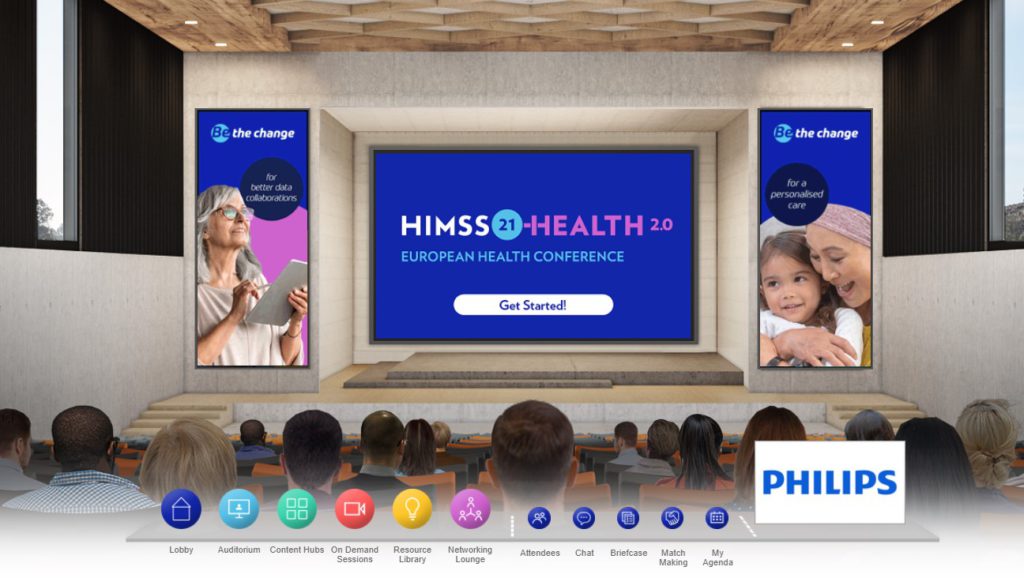 Due to the travel restrictions globally, the 2021 conference took place online. A special website simulated the conference feeling. Largely, it consisted of an auditorium, where the conferences were led and content hubs, which held company "booths". Last year, booths were organized by country and by the organization's major solution (e.g., interoperability, security), while this time, booths were divided more flexibly by content. The Networking Lounge was a space for those interested in chatting with healthcare colleagues worldwide. It also had some novel features like matchmaking, expanding on the simple networking function to searching for individuals interested in the same topics or working in similar countries, companies or positions as you do.
What's in it for health tech companies?
There are plenty of perks in participating in a conference if you know how to make the most of it. A general recommendation would be to visit the talks you are really interested in, take notes and get some extra materials into your virtual briefcase. Trust us – those will come in handy eventually. Industry-specific conferences like Health 2.0 are great for:
Education. Learning about new products and emerging companies, discussing industry developments or seeing revolutionary ways of combining tools cross-industries is inspiring for both personal and company development. Moreover, it can be useful to know national healthcare digitalization strategies, as well as global standards and guidelines that will eventually influence your business. The European market is broad, and there is lots to discover from fellow colleagues. You can gain new ideas, look for ways to improve and move forward.
Networking and company exposure. Participating in a large-scale event always provides a place to meet like-minded individuals, potential partners and collaborators for projects. In the EU, it's also very common to have government representatives and advisers at large conferences like HIMSS. At Health 2.0, the digital Networking Lounge was for more individual chats and company hubs for business-related talks. Showing up and engaging in discussions builds company credibility, while also providing a place to showcase specialty services.
Marketing and content. Seeing many ways in which the medical care industry lives today gives a great pool for content. By analyzing the trends and talking points, you can focus on topics that are the most relevant to your company and adjust your content plan to maximize its utility.
The HIMSS & Health 2.0 European Health Conference key takeaways
The 2021 HIMSS & Health 2.0 Europe event combined a vast array of themes during 60+ live and on-demand sessions – from the topic of the post-pandemic EU to disruptive digital transformations in healthcare and global inequalities following along with it.
Discussions centered on the topics of:
Pandemic recovery and catching up on the backlog
Data collaboration and trust to underpin integrated care
Effective digital public health to combat the infodemic
Creating a digitally enabled and informed workforce
New frontiers for AI (Artificial Intelligence), data analytics and precision health
Health inequalities at the forefront of transformation
As expected, the topic of COVID-19 still shapes the discourse in the community quite a bit. However, the pandemic also seems to have paved the way to rapid digital transformations and to realization of an urgent need for sustainability in the healthcare sector.
A new path for EU health: Trends and challenges
A robust, digitally supported and data-rich environment will be at the heart of EU care in the future. New players are entering the market, and new health data spaces will be introduced. Data plays a major role in it. But digital transformation should be built in the trusted environment between healthcare providers and the community.
We gathered the top trends and challenges in the European healthcare today, as discussed at the conference.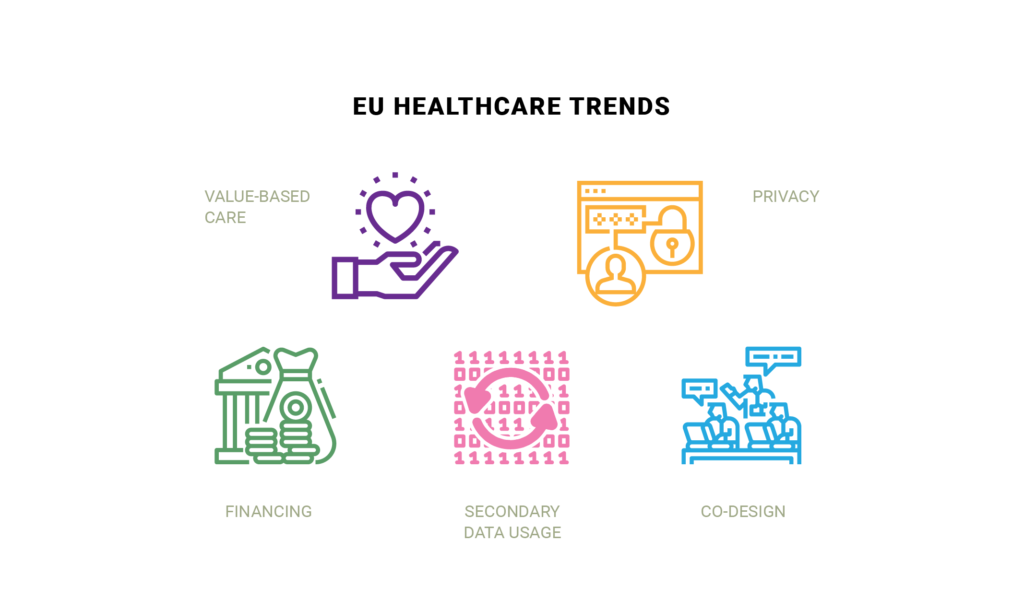 Value-based care
Sustainability, digital maturity and quality of care. These are a few ideas following presentations and workshops at HIMSS. EU top professionals and health tech companies see value in refining their value framework and approach to solutions and products through focusing not only on sick care but true healthcare.
If you haven't heard of it yet, value-based care is a healthcare delivery model in which providers get paid based on patient outcomes rather than their number of total visits. In many countries, 2/3 of health expenditure is spent on 5-10% of patients. Value-based care relies on provider accountability, while also reducing costs for providers and taxpayers and increasing patient satisfaction.
Privacy
After three successful years of GDPR (General Data Protection and Regulation) in place, EU representatives and healthcare businesses continue highlighting privacy as their key focus. On the one hand, privacy and security of personal health data, especially in this industry, must be guaranteed by design. On the other hand, data also should be available for researchers and doctors when needed. At times, when organizations followed the guidance too strictly, it blocked the possibility of secondary data usage. If the data can be fully anonymized, it has a possibility to be used effectively. Yet, any academic and industry research should be done according to the regulations. Balance and nuance in privacy decisions are crucial.
One of the great examples of EU initiatives that took a privacy-related approach is CoviLake Niguarda. It is an initiative helping Italy recover from COVID-19 by collecting lots of user data, pseudonymizing it and then putting the data into the large data lake and running through AI. The algorithms act as a clinical decision support system by predicting disease outbreaks.
Secondary data usage
Tightly related to the topics of research is the third trend in EU healthcare: secondary data usage. Sure, there is lots of big health-related data generated. The problem is that many don't know how to use it properly. Much of its value simply gets lost. There seems to be a rising need for interoperability, reuse of data and its standardization within cross systems.
Data flow and secondary usage helps to make better decisions, and the HIMSS 2021 presenters from the Netherlands had a proof for that. Their COVID vaccine (Jansen) was developed in only 10 months. It was thanks to cooperation between scientists and doctors, but also by the wide use of digital technologies. Researchers used data from multiple sources to make the calculations and analysis. The sharing and collaboration platform they developed was a key to an open care approach. A successful data strategy includes using data platforms, which are vital for better patient care and outcomes, improved work environments and reduced costs.
Financing
To support new formats of digital care services and preventive care programs, EU healthcare is in a need of good governmental financing or sponsoring. Systems like PCF in the United States are taken as a blueprint for this region as well to get the sustainable initiatives up and running. Best practice examples will be key to building trust in new financing models among leaders of healthcare systems.
Looking for a partner experienced in data platform development?
We offer better healthcare data solutions for your company's needs.
One EU country that does great in supporting health initiatives, is Germany. The Federal Institute for Drugs and Medical Devices and Federal Ministry of Economic Affairs and Energy provide extensive information, legal help and financial resources for healthcare startups.
Co-design
Taking a user-centered approach is nothing new in the health tech industry, though, expanded facets of it are coming to play now. Patients and doctors are not only in the mind of developers working on solutions, but they also take part in the development process itself. Co-design, working together with users, is a new approach in the EU product development, testing and improvement process. As Victor Adebowale mentioned, "Do with people, not tech; access; impact. Staying around long enough to understand the impact and manage consequences."
Transformation is all about people. So, collaboration is key to implementing a user-center solution. It's important to get all the stakeholders behind the change.
Final words
HIMSS Europe health conferences are a staple for the healthcare industry, providing a unique place for education, networking and discovering new ways to advance a health tech company.
The topic of COVID-19 is still very prevalent, but instead of thinking of ways to manage the crisis, Europe discusses life and developments post-pandemic. Sustainable financing models, better provider responsibility and addressing global inequalities have become even more visible since.
There seems to be a global trend in rethinking how we approach healthcare. As a result, topics such as value-based care, data privacy, secondary data usage, governmental financing and health product co-design are at the center of discussion.
Want to stay in the loop? Subscribe to GreenM Health Tech Digest and get top 5 handpicked industry insights, cases and business recommendations in your inbox every two weeks. Hit the SUBSCRIBE button below to learn about digital health with our newsletter or read more news here!
WANT TO KNOW HOW TO DESIGN A HEALTHCARE DATA PLATFORM?
Learn about our approach to building an agile ecosystems with an architecture of multiple secure data layers, distributed storage and internal and external APIs.
References:
What Is Value-Based Healthcare?
Collaborations, Sustainability and Precision: A New Agenda for Europe
CoviLake Niguarda: Trying to Predict COVID-19 Patient Path
Digital Health Applications (DiGA)