Having existed as a primitive tool during the wartime, radio-frequency identification (RFID) technology has now grounded itself firmly in our daily lives. It has become an extremely practical necessity for the entire world, especially in healthcare.
Needs must: the prehistory of RFID sticker
During World War II, RFID technology was sprung into life by Scottish physicist Sir Robert Alexander Watson-Watt. It was a means to identify aircraft, a task beyond the capabilities of radar technology, which was also invented by Watson-Watt. The "Identify Friend or Foe (IFF)" system was an improvement upon the German's efforts, who at the time, had only developed a basic, 'passive' RFID system.
Germany had achieved this passive system by requiring pilots to roll their aircraft upon their return to base. This changed the radio signal being bounced to base and indicated they were German. However, Watson-Watt innovated on this novel approach by installing RFID transmitters into British aircraft. In doing so, the IFF system would receive signals from ground radars, and afterward, they would then broadcast a 'friendly' identification signal confirming them as British.
A medical marvel: the growth of healthcare RFID solutions
It took RFID technologies some time to be adopted into a number of use cases — from inventory management and supply chains to unlocking doors and making contactless payments.
RFID applications in healthcare have been profoundly positive. Although the technology has been integrated massively into many facets of the healthcare sector, it is still touted to be the "next disruptive innovation in healthcare". It can automate many processes, manage inventories, prevent counterfeit medicines, improve patient satisfaction, and much more.
The numbers certainly back this claim. As RFID chips became cheaper and easier to produce, they've proliferated into the healthcare sector. In 2017, the global market value of RFID in healthcare was estimated to be worth USD 2.86 billion. This is anticipated to explode by 2025, reaching a projected value of USD 12.02 billion.
In the current landscape, as laid out by the Covid-19 pandemic, the global healthcare industry is undergoing a radical shift since new safety measures have to be put in place. With the demand for minimal physical contact, RFID is an invaluable asset in keeping everyone safe. So, its usage is going to become extensive over the coming years.
Data challenges to RFID in healthcare
Advances in technology and the increasing presence of companies creating RFID solutions for healthcare are driving this trend. In modern healthcare settings, such solutions create better outcomes for patients, doctors, and everyone in between. That said, as with all things 'new', there are some hurdles and growing pains to overcome.
Read more: Data Analytics in Telemedicine: Usage and Challenges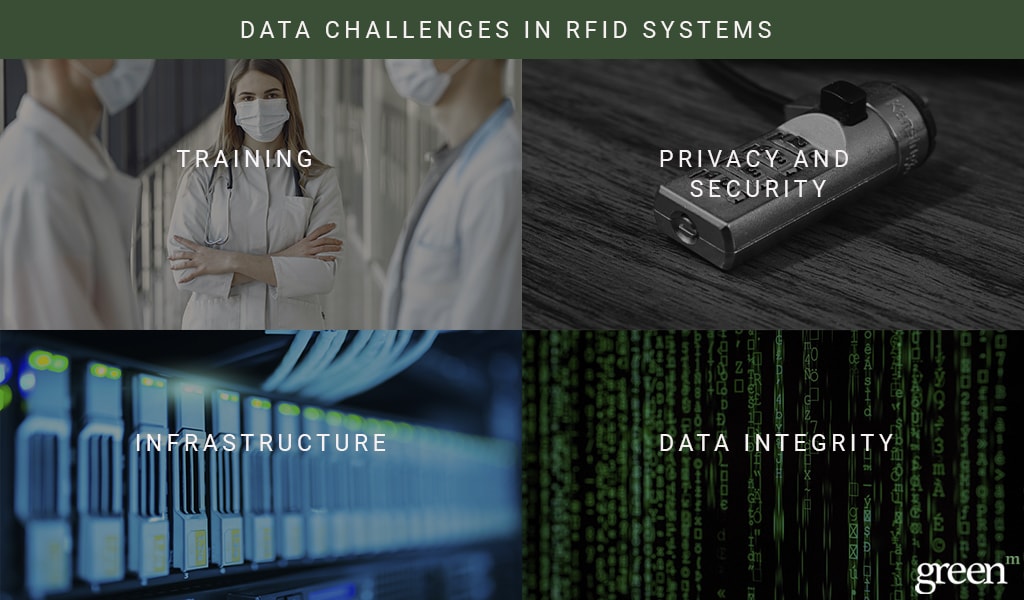 Training
RFID systems are complex, and one of the greatest promises it brings is the reduction of medical error. If one of the primary goals of healthcare is to ensure patient safety, then the integration of a well-maintained RFID system that self-regulates is also paramount. But that is no easy feat. The system can't operate solely on its own. For full-scale implementation and regulation of the system, any healthcare setting will need trained staff to maintain the equipment and software. This is often time-consuming and costly, making technical training and education one of the trickiest hurdles for RFID to overcome.
Privacy and Security
Patient and hospital data is under almost constant attack from bad actors, according to the 2019 Healthcare Data Breach Report. American hospitals saw an increase in patient record exposures growing from 14 million in 2018 to 41.3 million in 2019. In 2020, IBM estimated that the average cost to a healthcare organization for a data breach sits at around USD 7.13 million, making security automation a crucial facet to a successfully implemented RFID system.
Read more: Key Aspects to Consider when Creating Secure Data Platform
Infrastructure
Introducing a technological overhaul with RFID tags and their respective systems is expensive. They often require the implementation of supporting technologies like cellular networks and GPS (e.g. for RFID reader with GPS). Furthermore, the tags themselves, scanners, software, network maintenance, and numerous other assets can be cumbersome to any budget. For healthcare providers in more affluent regions of the world, this may be less of a hurdle than it will be for others. But the reality is that regardless of geographical position, having the time and resources to implement RFID is tricky at best.
Data Integrity
With hundreds, if not thousands of connected RFID devices and systems, the proper management of this data is fundamental. Huge swathes of data being collected and parsed from inventory to management systems, or from a patient's bed to a doctor's office, all require well-built and robust data management systems. This will ensure that the gathered data is accurate and not being misused. Poor outcomes on the part of faults in data could cause trust in the technology to wane, creating another challenge for RFID.
Read more: Interoperability in Healthcare: Capabilities, Trends, and Comparison of EHR Providers
How is RFID used in healthcare?
But despite the above challenges, RFID solutions are still a sure way to improve healthcare services. And here's why.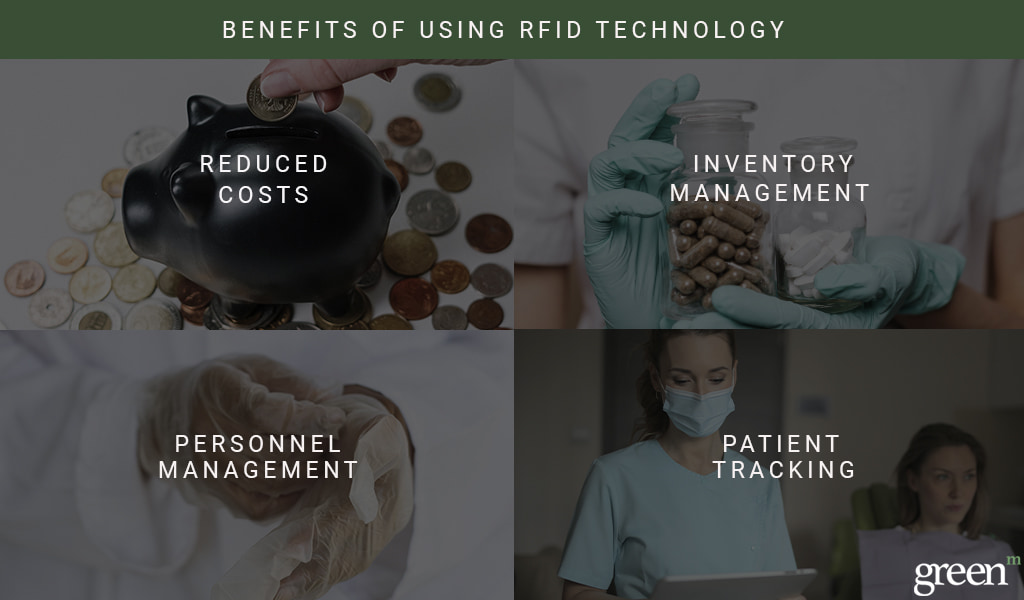 Cost reduction using RFID
When applied properly, the technology can almost entirely remove labor- and time-intensive processes that had previously existed. Both simple and complex tasks can be managed through a decent RFID system, reducing the number of people and the amount of time required to do them. Though it is important to note that these costs should be weighed carefully against the costs of RFID system implementation, as it may not be the case in every instance.
RFID inventory management systems
Healthcare organizations and locations run a very tight ship when it comes to tracking their assets and inventory levels. With an RFID system that can track people and stock in real-time, healthcare providers are given greater insights. These insights can be put toward reducing costs by identifying overstocked or underused items. The chances of saving lives also increase, as vital instruments and medicines can be tracked, monitored, and located in a timely fashion, before or during an emergency.
Moreover, RFID is used for implants and similar medical items. This way the data about the assigned item and the patient is easily tracked and automatically logged in EHR. As a result, healthcare professionals can timely identify and prevent the risk of item expiration, adverse events, or any quality-related issues.
Patient tracking RFID systems
Wristbands or other wearables with embedded RFID chips can have profoundly positive effects on the wellbeing and safety of patients. This can streamline the process of managing a patient's eating/medicine schedule, and even bring up their entire medical history in just one scan. RFID chips can also be helpful in contact tracing, where patients have a contagious illness. It can be difficult to tell who has come into contact with whom, but RFID wearables can screen for this and reduce risks drastically.
Read more: How to Use Big Data Analytics to Increase Patient Engagement, And Why It Matters
RFID can also be used for forensic purposes. Implementing tags in dentures facilitates patient identification and recognition in the case of natural disasters, major traffic accidents, or other fatal casualties. The information contained in the chip may not only help to identify the person, but also provide the patient treatment history.
RFID personnel tracking software
Most healthcare settings are much like complex machines with thousands of moving parts. Crucially, it is the teams of healthcare providers, engineers, technicians, and cleaners that keep the wheels spinning. RFID systems for hospitals can track staff in real-time, monitoring hygiene standards (e.g. washing hands), staff availability, efficiency, and so on. With greater insights into the standards and behaviors of staff, improvements can be made across the board to better direct workflow and ensure healthcare settings are running as efficiently as possible.
WANT TO MAKE YOUR HEALTH TECH SOLUTION BETTER?
Learn how we help health IT leaders to harness the power of data to create RFID asset tracking and inventory management platforms.
Data-Driven approach for RFID systems in healthcare
Modern technology has transformed the way we approach and interact with almost every facet of daily life. And as such, RFID has been an extremely informative technology that can provide vital knowledge for our future, when used for good and in an appropriate manner.
As was mentioned earlier, RFID can be used for various purposes in healthcare. It collects data about patients, staff, inventory, treatment, etc. Besides, it comes from different sources — wearables, dentures, health equipment, tags. This poses a significant challenge to data management and analysis. The information on interactions is collected from RFID tags on a daily basis, leaving experts with a wealth of unstructured data sets. Organizing this information manually is a time-consuming error-prone process. If any inaccuracies take place, data will have little to no value for analysis and further decision-making. In the worst-case scenario, it may even cost patients' lives.
For the data to have a meaningful real-time effect, the analysis process should be automated. With the appropriate system and procedures in place, the decision makers will have access to clean, readable data. But, how is this achieved? First of all, the raw data from various RFID tags should be transferred to a single location for further transformations (e.g. a data lake). It is then formatted, filtered, and categorized. Once the data is cleansed, it can finally get some form of visualization — reports, graphs, and charts. Now, the decision makers can use easily consumable data chunks for further analysis and management.
Read more: A Quick Way to Refine Raw Data Into Dollars
Inherently, we are a 'data-driven' society, where over time we gather as much information as we can about the past and present so that we are set and ready for the future. This is a critical area to consider when moving forward with RFID implementation in healthcare settings. There is no 'one-size-fits-all' model for RFID infrastructure in healthcare and the patients they serve. But with a data-driven approach and the expert team in charge of big data analytics, bespoke systems that meet the demands of the present and future settings can be identified and integrated with relative ease.
RFID data analytics in healthcare: conclusion
It's surprising that RFID hasn't completely enveloped the entire healthcare industry, but this may be a result of financial and technological limitations that we are yet to overcome. In tandem with other technologies such as cloud computing and the Internet of Things (IoT), RFID is poised to be a mainstay of the industry. It is clear that this technology boasts exceptional potential, especially in healthcare.
Top 5 handpicked by GreenM healthcare industry insights, cases and business news in your inbox every two weeks. Hit the SUBSCRIBE button below to learn about health tech with our digest!
WANT TO BUILD A HEALTHCARE MVP BASED ON OPEN DATA?
Learn how to take a concept from a business problem to a functioning solution in a very short period.