The point-of-care market is growing step by step — new technologies are being developed, and old ones are being updated to meet the ever-growing needs of hospitals, pharmacies, intensive care, and home care, also being conducted under limited resources. Based on this report, the Global Point of Care Technology Market is expected to grow at a CAGR of 9.5% during the forecast period 2017-2023.
This market is growing rapidly thanks to the modern healthcare industry, especially in developing countries. The main factors that contribute to this, are the development of diagnostics, various chronic diseases, the rapid growth in the field of medical technology, and other types of point of care technology.
Rapid diagnosis of clinical conditions through point-of-care testing can shorten care time and improve patient outcomes. New tools, such as biosensors, mobile medical care, and wearable technology, allow for more continuous and less invasive testing, decrease the time to diagnosis with fast, accurate results that reduce complexity and improve operational workflow, digitalize healthcare by enabling connectivity to dozens of sites, hundreds of devices, and thousands of different operators. In addition, it helps to discover which practices are most active, helps cut costs, and even improves the health of the populations.
What you should know about point of care analytics technology?
PoC technology includes devices and systems that help medical professionals facilitate their efforts to monitor, deliver patient care, and document their health status. These technologies can be used in three ways: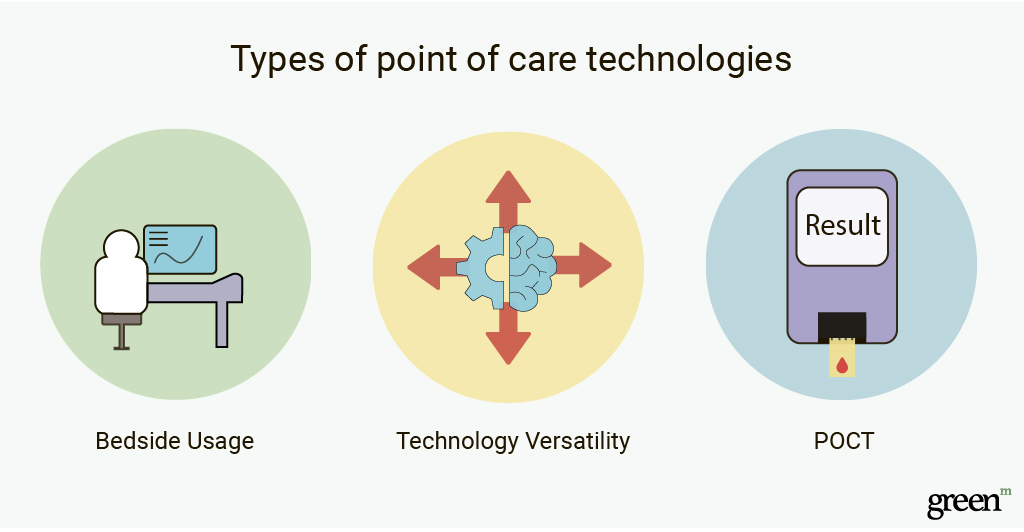 Bedside usage
One of the most essential aspects of PoC technology. This is used to facilitate and improve the interaction between patients and their doctors or nurses. It helps to generate precise results, and enhances healthcare provisions and most importantly, patient outcomes.
Technology versatility
Using Point of Care technology, healthcare providers have comprehensive access to a hospital's IT system. Moreover, PoC devices are highly versatile and compatible with a wide range software, which helps medical teams to work even more efficiently.
Point of care testing software
Due to the rapid growth of POCT software, and in vitro diagnostics, it's essential for healthcare organizations to transition from centralized laboratories to decentralized medical care testing. In this case, POCT is the smartest choice, because it allows medical teams to more quickly detect health problems, which helps doctors make decisions faster and improve the diagnosis and treatment of the disease. Advanced data analytics and machine learning help move the diagnostic process to the next level
Point of care software: key features and business value
Patient care management helps healthcare providers reduce costs and improve the quality of care for those who require special care. This unique approach, known as the "Patient Impact Predictor," leads to comprehensive care, which that includes socio-economic data, social data, and more.
The rapid change in test results is crucial for decision-making in various settings. With access to significant test results, doctors gain more control over in evaluating and responding to a patient's continually changing condition.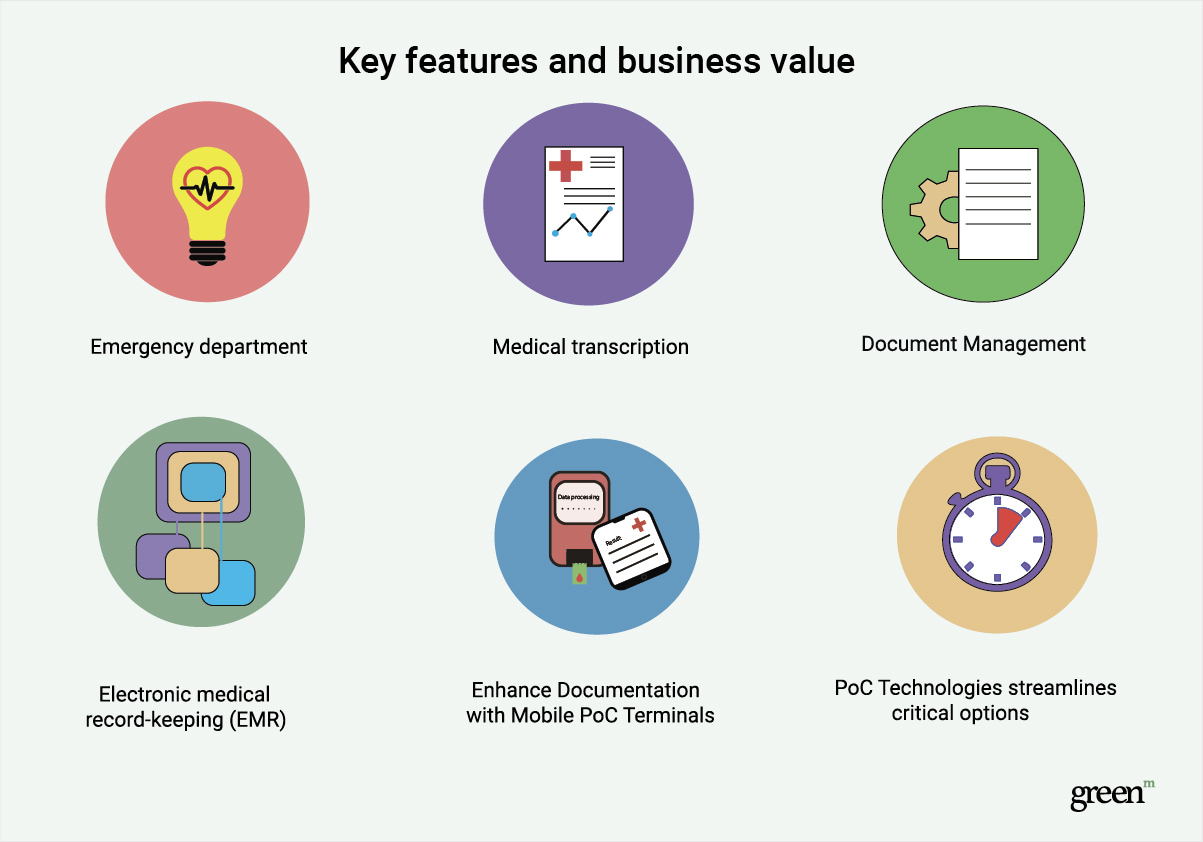 Emergency department
Overcrowding in the emergency department can cause problems, including long waiting times, prolonged suffering for patients. Implementation of testing can help speed up patient sorting by access to critical diagnostic test information, reducing the length of stay. However, the necessary data about the patient are also crucial. If the patient is unconscious, doctors can obtain information about the allergies or medications he/she is currently using. In this way, they can avoid some testing if the results of the last checkup are still valid and accessible in the system.
Medical transcription
This gives doctors an excellent opportunity to dictate notes through their mobile device, which is then added as a note to the corresponding patient care provision.
Document management
Some solutions are used as a standalone secure data warehouse, and some as an extension of an EMR. It also includes guidance and streams for relevant regulatory, clinical documentation, as well as improved economic performance.
Also, most studies show that nurses spend almost 50% of their shift on documentation that is done with pencil and paper.
The introduction of a wall-mounted or mobile PoC terminal would significantly save time and money, improve the quality and quantity of documentation produced, and allow nurses to spend more time caring for patients.
Electronic medical record-keeping (EMR)
The transition to electronic medical records (EMR) has long been under development throughout the healthcare industry.
Using Point of Care technology, documenting patient medical data allows doctors to quickly access, modify, store, and share patient records.
PoC technologies streamlines critical options
Point of Care technologies enables hospitals and clinics to invest more time and money in technologies that help accelerate the patient flow through practice and streamline the daily workflow of doctors and nurses by reducing waiting times.
Is it possible to assemble the right team of data experts within one company?
The development of products or services for PoC requires a full range of professionals (business, management, marketing, finance, and more). However, the foundation of everything lies on a large amount of data. Data analytics helps you gain more insight into a systemic waste of resources, tracks the performance of specialists, and can identify more essential points necessary to better work.
In this case, gathering the right team of data professionals in one company – combining engineers, big data experts, BI analysis, and others as required — can generate enormous upsides and positive results.
Developing a new data analytics system often starts with setting goals and business research. Here, it's crucial to have an experienced business analyst with in-depth knowledge and expertise in creating healthcare analytics platforms. As the amount of experimental data increases, the concept is proven, and demand demonstrated. After these experiments are replicated and tested further, the idea moves from research into the MVP and later, beta stage.
At this stage, data architects and data analysts need to be involved. Data analytics and data quality assurance teams should work together to find the most effective solutions.
When PoC data engineers also have a set of necessary domain expertise (healthcare) and needed technical experience in cloud expertise (cloud, ETL and other) and data lake expertise (Apache Spark, Vertica and other), that can be used in the testing and development stage, this dramatically increases the project's success. This is a classic modular and lean development approach that works well in software. Moreover, it's crucial to quickly create successful ETL proof of concepts to improve outcomes.
Experienced analytics have proven technological solutions and methods for testing and validating them. If data engineers already understand the data requirements and correctly implement all the controls, then critical points during the transfer process are less likely to cause problems. Instead of devising ways to address such inconsistencies, developers can focus on the task at hand.
In addition, the frontend engineers and visualization experts work on new or update existing data visualization and reporting dashboards, create and update dashboards using both Extracts and Live connections from both relation database tables, implement panels in existing web apps, work closely with the business analyst, etc. It's imperative to have the proper domain knowledge to visualize healthcare data, discover relevant data faster, and catch hidden insights to make smarter decisions.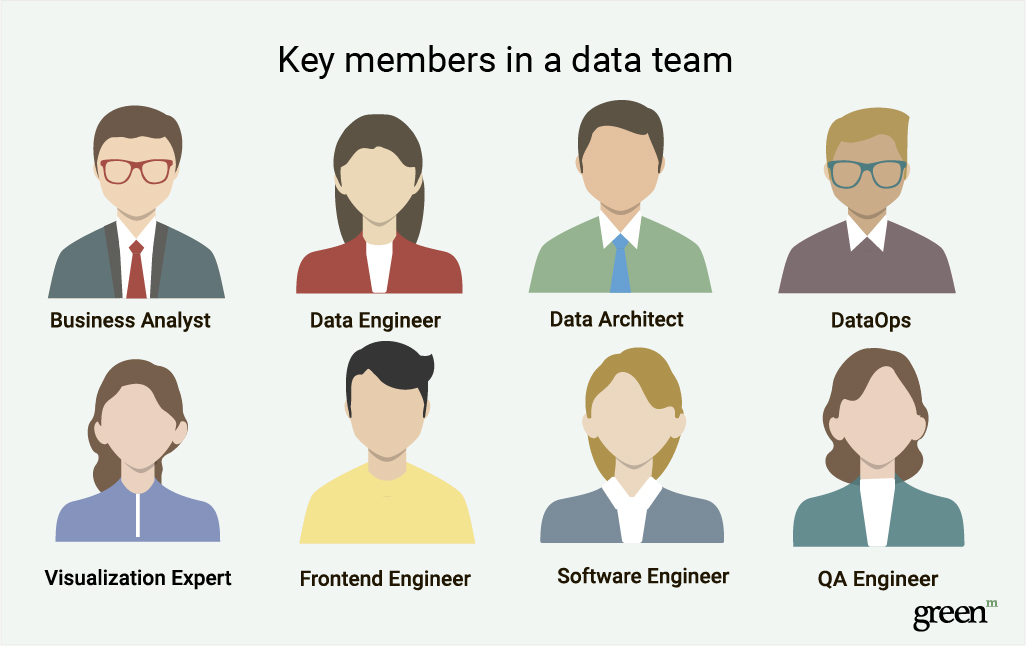 Wrapping Up
As you can see, the creation of PoC analytics platform requires quite a lot of coordination between several teams. Development is completed only when the system works reliably and cost-effectively. Business and data engineering must collaborate throughout the project to build commercially successful PoC software. This is a complex process, but it can be accomplished by adequately expanding your team with the right data professionals.
Learn more about our PoC and EHR data analytics solutions.
Top 5 handpicked by GreenM healthcare industry insights, cases and business recommendations in your inbox every two weeks. Hit the SUBSCRIBE button below to learn about health tech with our digest!
HOW TO BUILD SCALABLE SUBSCRIPTION SERVICE IN 2 MONTHS?
Learn how to replace an old subscriptions product, so a new one must have the same features and non-functional characteristics.